One More Reason I Love Digital Scrapbooking – and a FREE Template
Wow, I think this is the longest time I have ever gone without a post on here in quite awhile. I guess I will use our new daughter as my excuse. Bree is now 5 weeks old. Born just a few days before Christmas, she was a wonderful gift!
After she was born, I realized that I still haven't scrapped most of Adrianna's baby photos yet. Rather than stressing about all the layouts I will have yet to do, now times two, I recognized that digital scrapbooking can help me simplify my scrapping in that I can make ONE general layout for a baby event (for daughter #1) and simply use that layout as a template to quickly make a second layout with photos of daughter #2. I can also easily clip papers and embellishments from a different kit to the layers of the original layout as well. This should be a huge time-saver for me, since coming up with the layout design idea is usually what takes me the longest when making a page.
So here is the same baby event (getting ready to head to the hospital to deliver) for both daughters. Same general design, two separate layouts created from one original PSD file.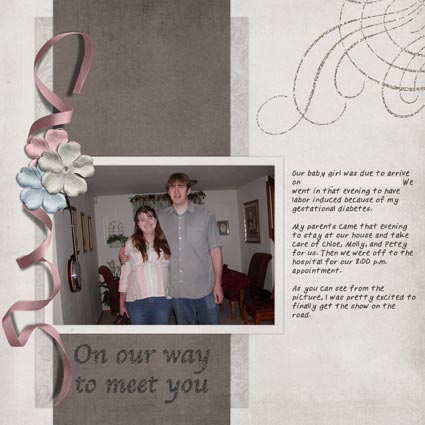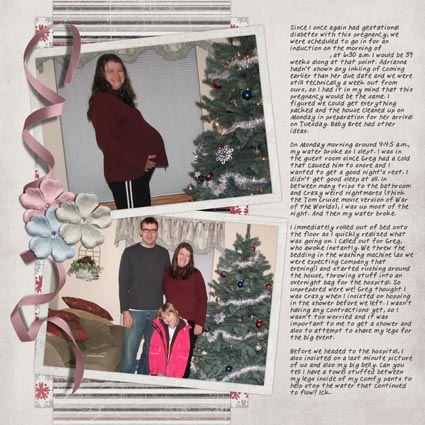 Credits: Inspiration for the layout from this page by Eva Kipler; Ribbon by Dani Alencar "On this day" kit; Kit on layout #1 and flowers by Paislee Press "On this day" Kit on layout #2 by Jennifer Barrette "Chilled"
And of course I made a template out of my layout so it can save you some time too. 🙂
There is a download for the 12×12 PSD file as well as a separate download for the PNG files if you use a program other than Photoshop.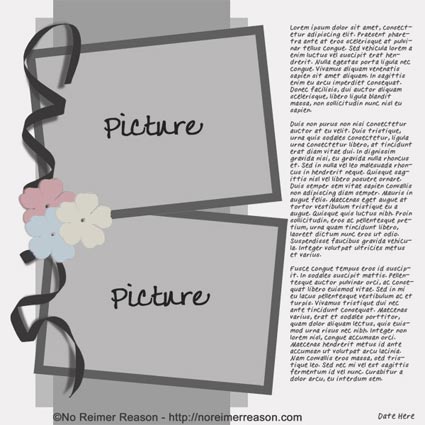 Download Digital Scrapbook PSD File
Download PNGs