Bridesmaid Dresses
This weekend we drove down to Springs to hang out with Shad and Lynette and also so I could spend some time with Kristy. Kristy is getting married in December, and I am excited that I get to be her matron-of-honor. She was the maid of honor at my wedding as well. So Saturday afternoon was spent picking out and trying on bridesmaid dresses with two of her sisters and another of her friends. Kristy was really easy going about the whole thing and let us all have a say on what dress and shoes were picked out. Our final choices are really pretty and didn't break the bank. I really need to lose weight though. UGH. I just wish I had the willpower.
Kristy and I have been friends since we were 14. We had originally met at a homeschool New Year's Eve party. She thought I was pretty weird and I thought she was a bit of a snob. Ya gotta love first impressions.
We met again at a mutual friend's birthday party / sleepover about 6 months later. We got to talking and found out we had a lot of things in common, including the fact that we were both thinking about going back to public school for our 9th grade year. I think we may have made the birthday girl a little jealous with the way we totally hit it off. Both myself and another girl, Deena, were competing over who could put our sleeping bags next to Kristy rather than the birthday girl. (Sorry Misty!) And Kristy still liked me even after I accidently farted while laughing. Hmmm…I think I have a problem with laugh-farting. We did end up going back to public school for 9th grade and decided we liked homeschooling better and went back to being homeschooled for 10th. But from that party on, there hasn't been anyone like her. I hate that we don't live in the same town anymore, but we still have fun whenever we do get together.
Here are a few pictures from the good ol' days. I think these are from 1996, which makes us 18.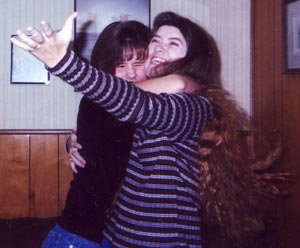 Just to explain, we had each just purchased our first pair of wide-leg jeans (they were just coming into style back then) and we felt pretty hip.