Monthly Archives:
April 2012
I was so excited to see Natalie move to the "My Family Found Me" page on Reece's Rainbow a few days ago! This little girl has really captured my heart and it makes me so happy to know that a family is working toward her adoption.
I guess I need to change my sidebar again soon to display another precious little child needing an adoptive family. 🙂
I don't know how many of my blog visitors pay attention to my blog sidebar where I feature a precious child who is looking for their forever family. I hope you do!
For several months, sweet Arnold's face has been featured there.

Arnold had been on my heart for a long time. Did you know that in some Eastern European countries, many orphans with special needs are transferred to mental institutions at the tender age of 4 or 5 if they haven't been adopted? It is hard for me to comprehend. Arnold was scheduled for transfer this summer, so I was incredibly excited to see that a family had stepped forward last month to adopt him. My heart still thrills with joy whenever I think of it.
---
I'd like to introduce you to another precious child named
Natalie
. Natalie is almost 3 years old.
From the Reece's Rainbow site:
This little love is said to have a very mild delay — they don't even consider her as "special needs" at her orphanage, but yet she'll never find a family in her country due to her Down syndrome diagnosis.

She has some physical delays, but her neuro-psychological development is said to be at age level.

Natalie is an orphanage favorite, and they are hoping to find her a family! They say she is the sweetest girl, kind and friendly.
---
Even if you aren't called to adopt a child, there are many things we can do to help these children. We can spread the word, pray for a child or help an adopting family, financially or with our prayers and support. Each child on
Reece's Rainbow
has a tax-deductible fund setup to help prospective parents with adoptions costs as they don't want finances to be an issue holding anyone back from adopting a child.
Thank you for reading about Arnold and Natalie.
For Saint Patrick's Day, I found some fun and free printable cards on the Family Fun website to create a scavenger hunt. (Image is linked up to the original source if you want to download too!)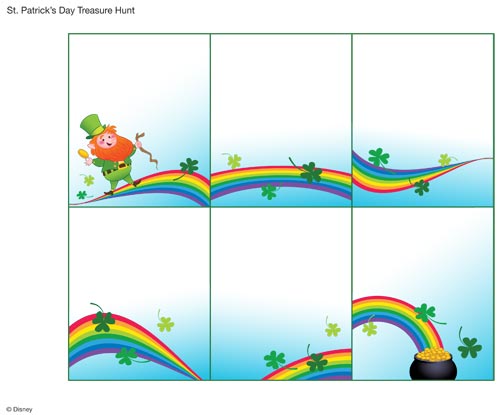 To start the hunt off, I upturned some furniture in the playroom and scattered green sequins all over the floor so that it represented leprechaun mischief. Then, right near the chaos, I had taped the first card, that was supposedly written by the mischievous leprechaun, to set them off on the hunt. The final clue was hidden with a handful of candy (the treasure).
My daughter and her friends loved it. LOVED IT. So much, in fact, that my daughter created her own scavenger hunt for me a few days later! She got up early in the morning and put it together while I was still asleep.
For a writing assignment at her homeschool co-op yesterday, she was supposed to list something she was looking forward to on Easter. She wrote that she was looking forward to another scavenger hunt. Uh oh. Guess we've started something here! So I created some scavenger hunt cards with an Easter theme.
I think what we'll do is hide an egg along with each clue. It will make searching for eggs a little more fun. Instead of a bunch of candy, I may do fun things like cute barrettes, lip gloss and other girly things.
Close-up of one card (each one measures 3 x 2.5 inches):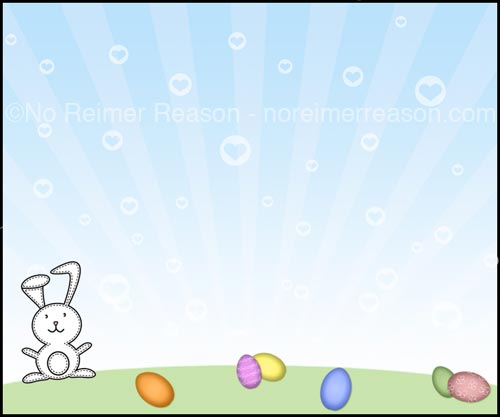 Credits: Cute bunny and heart brushes were created by Graphics-Illustrations
The free printable is an 8.5 x 11 JPG or PDF (your choice). You can import the file into Photoshop and use the text tool to type out the clues on each card before printing. The free download can be found on my Digital Scrapbook Freebies page.
Hope you have a Happy Easter!