Monthly Archives:
January 2012
I like to keep a copy of all my scrapbook kit previews in one place so that I can easily see at a glance what I have available. I used to keep a copy of all the previews in a folder on my computer. But more recently, I've been importing them into my iPhoto program. Not only are they all in one place, now I can assign tags or key words to each so they are easily searchable by color, theme, designer, store, etc. This has made it so much easier to find the "right" kit to use for my scrapbook pages.
It has also made it easy to do a kit cleanup / purge when I feel one is needed.
I'll be the first to admit that I have a hard time getting rid of things, especially if it is something I've paid for. Over the past few years, I have acquired a lot of kits. A lot. Freebies, kits purchased from stores and also kits received from monthly paid subscriptions.  But my hard drive was getting full and I kept running across those kit previews in iPhoto that I finally had to admit to myself that I'd never use.
I am pretty picky about the freebies I download, so most of them were keepers. The kits I purchased directly from stores were also mostly keepers, not because I'd paid money for them but because I'd purchased them individually and with intent. But the kits received from monthly paid subscriptions – not so much. Yes, I did receive many great kits that I love and will use. I was also glad to discover many new-to-me designers. However, I also received MANY kits that I finally had to admit to myself that I would never, ever use. Even many from "top-name" designers. Not that they were bad or poorly designed kits, they simply were not my style.
So I began deleting. It was hard at first. I kept thinking that maybe *someday* I'd want to use that artsy kit for a special artsy page. Or make a fantasy page with the fun fantasy kit. But realistically, I probably won't do either. So off to my trash bin they went.
Then for the hard part. Actually emptying the trash. No going back now! 100+ kits deleted and my hard drive with 15GB more free space, I feel pretty good about my decision.
Have you cleaned up your scrapbooking supplies lately?
We have gotten a couple of nice snowstorms already this winter, much to my 6yo daughter's delight. My just-turned-two year old isn't so impressed (yet). What a contrast these cold, snowy pages are to our mild 65 degree weather today though! I even have the windows open – such a delight!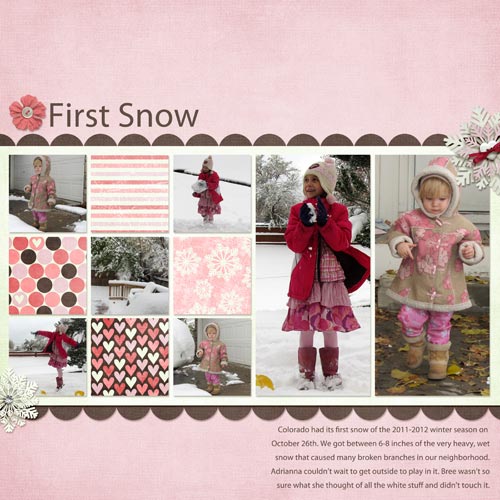 Credits: Kit used is Sir Scrap-a-lot's "Hearts of Winter", Template is a freebie from Marie at Free Digital Scrapbooking
The day after the girls played in the snow in the above layout, my daughter wrote a little story about it at her homeschool co-op "Fun with Language" class. I will have to include this in our scrapbook, as it is a lot cuter than my own journaling! 🙂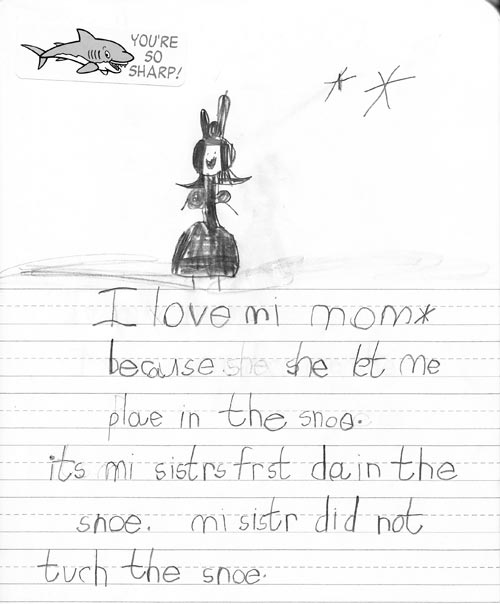 It reads:
"I love my mom because she let me play in the snow. It's my sister's first day in the snow. My sister did not touch the snow."

Credits: Kit used is Sir Scrap-a-lot's "Hearts of Winter", Template is a freebie by Sahlin Studio
Both digital scrapbook layouts were created from FREE digital templates that I found online. The locations of both are linked up for you in the credits of each page so you can download them too.
Have you seen the new Facebook Timeline yet?
Example from Introducing Timeline:
One of the first things that struck me when I upgraded my profile to Timeline in mid-December was how versatile the large cover photo could be for anyone who enjoys using Photoshop. Since it is also the first thing people will see when they visit your profile, why not personalize it?
Here is what I did for Christmas:

And then just a few quick changes for the New Year:

I have created a free Photoshop template to get you started in customizing your own Facebook Timeline Cover Photo. You can use it in the same way you would use a regular digital scrapbook template. Simply add your photos, background and embellishments and then upload to Facebook.
You can click on the preview below to be brought to my page of free downloads.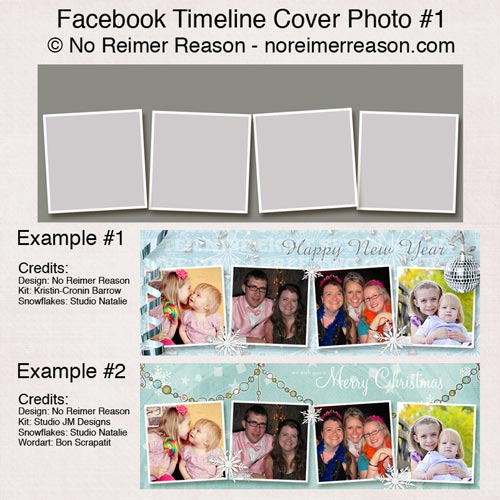 Once you have the Facebook Timeline layout, it is really easy to change your cover photo. Simply hover your cursor over your current cover photo and select "Change Cover/Upload Photo" and choose your new design from your computer.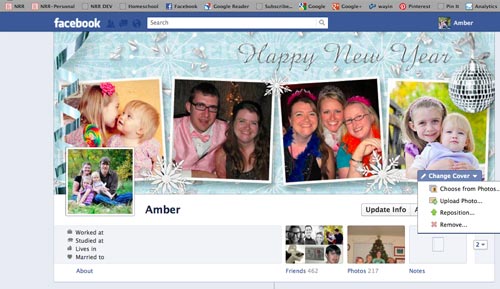 I hope you are having a Happy New Year!