Monthly Archives:
February 2010
Sometimes I find myself sitting at my computer all evening, willing myself to come up with a scrapbook layout and coming up with nothing. This could be in part to my addiction to Facebook and reading blogs too. 🙂
To get out of my scrapbooking rut, I decided to try using a sketch/challenge over at Ella Publishing. It seemed to do the trick, as I was able to get another layout completed tonight. Hooray!
This is my Breezy girl at 8 weeks. She is really starting to interact and socialize with us more and just seeing her smile makes me smile too. I get a thrill of happiness every time I pick her up and hold her close.


Credits: Layout based on sketch by Donna Jannuzzi found at Ella Publishing; papers from "So Sweet" kit by Zoe Pearn; hearts and sparkles from "Happiness" kit by Three Paper Peonies.
I think you can still get Zoe Pearn's "So Sweet" kit for free by subscribing to her newsletter here.
I saw someone post a layout of pictures in a calendar format and I fell in love with it instantly. My mind began thinking on how I could make a template for it when I saw that she had linked up a template that she had purchased and used to make the layout. I went out and bought the template pack that night and I have to say that it is fabulous! Everything is on its own layer so it is very easy to customize.
Here is what I did with the template.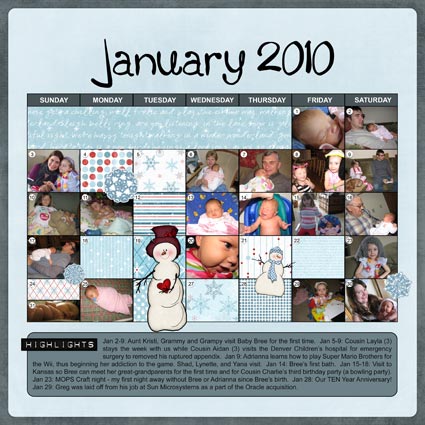 Credits: Template by Misty Cato "Month in Review 2010 Calendar Templates", Papers by Martine McKnight "Winter Wonderland", Snowmen by Digital Anemona "Christmas Gift"
I enjoyed making this layout so much that it almost makes me wish February would hurry up and get over so I can start on my February month in review layout. 🙂
I had a chance to get some scrapping done yesterday, so I have another template that I would love to give away.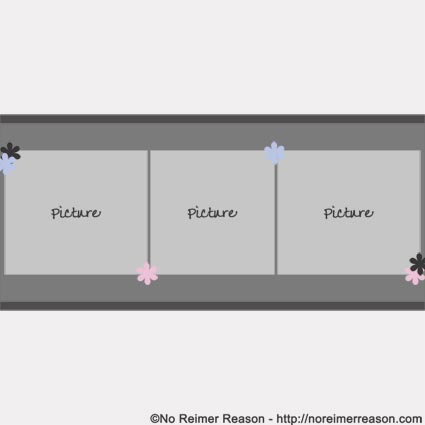 There is a download for the 12×12 PSD file as well as a separate download for the PNG files if you use a program other than Photoshop. You can click on the preview to be brought to my download page that contains all of my available digital scrapbook freebies.
If you need inspiration, here are the two layouts I put together which were what I created the template from.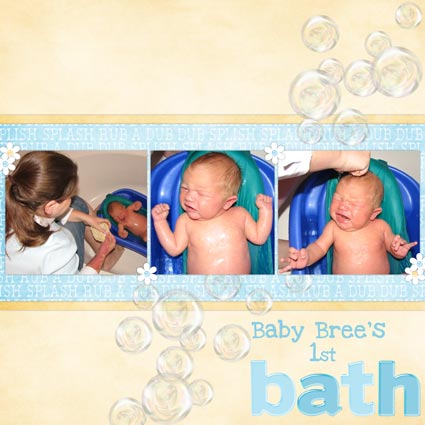 Credits: Rub A Dub Kit by Kristen Cronin-Barrow