Monthly Archives:
December 2007
Last week, we replaced the linoleum in our kitchen and the carpeting in our dining room with hardwood flooring. Though the fumes drove us out of the house one evening (we stayed in a hotel), I am so glad we did it because what a difference it makes in those two rooms! Not only does it unify the rooms, which was greatly needed, but it also makes the dining area seem more spacious since there is no longer a defining line where one room ends and another begins.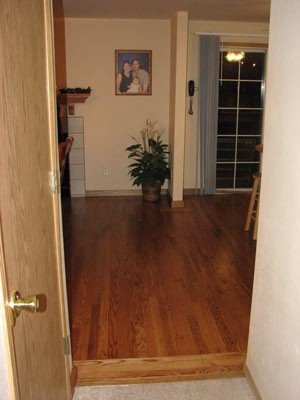 I am still in awe that those rooms are a part of our house. I feel like I am in someone else's house whenever I go in there, and I find myself just happily looking around those rooms, taking it all in. The dogs were banished from the rooms until this evening (we didn't want their claws hurting the finish before it had a chance to fully harden.) They are still a little nervous about treading on the wood.
Thank you all for the the thoughts, prayers, and words of encouragement that you have left us over the past couple weeks on here, through Facebook, in person, and over email. Each message has really touched my heart and I have read each and every one often. I am so grateful to have such a great group of people in our lives, supporting and loving us.
We are doing okay here. Taking it one day at a time.
I know I have been MIA on here for awhile, but that should change soon.
Thanks again for everything.